When Charles Schreeder, Warren Wheeler, and David Flint founded their practice in 1974, they envisioned a firm that could provide the same high-quality legal representation as the largest firms in the Southeast while retaining the attention to detail and client needs on which smaller firms focused. Those values shape the firm's growth and inspire us today.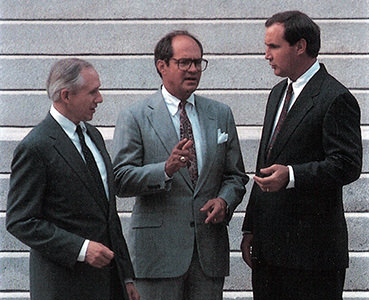 For more than forty years, the law firm of Schreeder, Wheeler & Flint has garnered a reputation for excellence, outstanding legal work, and solid value among its clients and the legal community throughout Georgia and the Southeast. The firm's attorneys recognize, above all, that the central values that drive effective client representation and success in the practice of law remain exactly what they were when the firm was founded: personal attention, hard work, and the earnest pursuit of clients' goals. With those values, our attorneys—be they litigators standing before a federal judge or transactional attorneys assessing various competing interests in negotiating a multimillion-dollar deal—find innovative results that serve our clients' interests.

Whether your business is just starting out, financing growth, acquiring or divesting itself of assets, battling a competitor, or navigating choppy economic waters, the firm has both the legal knowledge and business savvy to help achieve your goals. From handling complex litigation to managing sophisticated transactional work, our attorneys have the expertise and skills to provide superior representation. Further, our attorneys are licensed in states, and admitted to practice in courts, throughout the country in order to meet the multi-jurisdictional demands of our clients in a global economy.
The firm remains, at first glance, largely in line with its founding partners' initial vision. Our attorneys and professional staff offer a unique, high level of personalized service to the firm's clients that many other, larger firms cannot provide. Our clients have direct access to, and establish lasting relationships with, the firm's attorneys and know that they can rely on those attorneys for a wide range of legal needs. At the same time, however, the firm has embraced technological advances that have streamlined its attorneys' practices and that allow the firm to offer more cost-effective solutions to, and obtain innovative results for, its clients.
Our attorneys are actively involved in the Atlanta community; that involvement enhances the communities where all of the firm's employees, and many of its clients, live and work. The firm's attorneys participate in a wide range of organizations and boards, including the Shepherd Center, Northside Youth Organization, Bobby Dodd Coach of the Year Foundation, Rotary Club, and many others. In addition, the firm actively supports numerous professional organizations, such as the Georgia Association of Women Lawyers and Atlanta Legal Aid.